« Ce que cela coûte », roman de boxe sans une once de graisse signé W. C. Heinz
L'auteur, journaliste sportif aguerri (et qui fut, en 1968, le scénariste de « M.A.S.H. »), a signé ce récit en 1958. Le voici traduit.
Article réservé aux abonnés
Ce que cela coûte (The Professional), de W. C. Heinz, traduit de l'anglais (Etats-Unis) par Emmanuelle et Philippe Aronson, Monsieur Toussaint Louverture, 350 p., 24 €.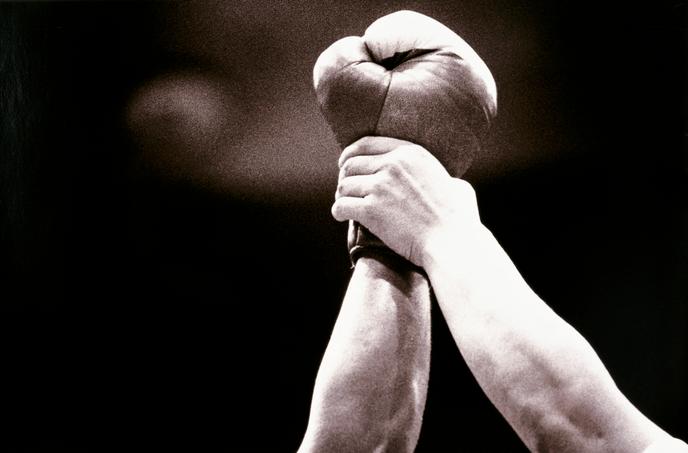 La question du prix à payer traverse aussi bien les polars, avec leurs flics cabossés ayant tout sacrifié à leur métier, que les biographies, fictives ou non, d'athlètes de haut niveau. Leur quête de gloire est au cœur de leur abnégation, de leur rage et de leur docilité à l'entraînement. Si l'on ajoute le titre original, The Professional, au français, Ce que cela coûte, on obtient une idée assez juste du grand roman sur la boxe que signe l'Américain W. C. Heinz (1915-2008). Un sport où un simple ­crochet peut briser mâchoire et illusions, où l'avenir est susceptible de s'achever au bout d'une minute trente, où les retransmissions télévisées amplifient victoires et défaites.
Style est musclé et modeste
W. C. Heinz a toujours été un chroniqueur de combats. Des hommes à la guerre puis des hommes en compétition. Après avoir travaillé comme correspondant en Europe pour The New York Sun, y suivant l'offensive alliée en 1944, le journaliste s'est attaché à l'actualité sportive : des comptes rendus qu'il a ­parés d'humanité et qui lui ont valu une relative postérité. Ses meilleurs articles pour les magazines Sport, Life ou Esquire ont été plusieurs fois réunis en recueils, le dernier en date ayant été édité par la prestigieuse maison Library of America en 2015. Heinz semble avoir toujours su que la gloire est éphémère, qu'un faux pas peut coûter la vie. Son style est musclé et modeste. Attentif aux perceptions et aux gestes, dialoguiste authentique, il écrit avec clarté et sans graisse. Il évite superlatifs et sensationnalisme. Par la suite, Heinz a cosigné, sous le pseudonyme de Richard Hooker, le roman M.A.S.H. (1968) et le scénario de son adaptation par Robert Altman, qui obtint la Palme d'or à Cannes en 1970. Le long-métrage s'achevait par la victoire en match ­amical de l'équipe du 4077e, hôpital de campagne américain pendant la guerre de Corée.
Grand soir au Madison Square Garden
Publié à l'origine en 1958 et inédit en France jusqu'ici, Ce que cela coûte conte l'histoire d'un boxeur, Eddie Brown, qui, après neuf ans dans le circuit professionnel, va disputer le titre de champion du monde, catégorie poids moyens. Il est flanqué de son coach, Doc Carroll, un vieux et éminent connaisseur du milieu. « Lorsqu'un gamin décide de devenir boxeur et quand, quelque part, il se pointe dans une salle, sac à la main, il est comme un bloc de marbre tout droit sorti d'une carrière, un bloc de la taille d'un homme. Un tailleur de pierre peut voir beaucoup de choses dans le marbre brut, mais le sculpteur n'en voit qu'une. »